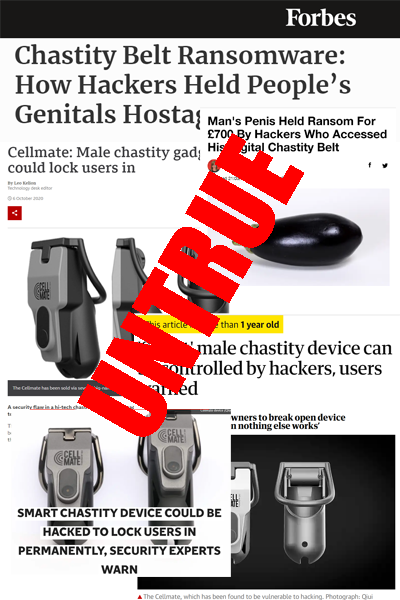 CASE SOLVED: Cellmate Chastity "Hacked"
This is a clarification post to address the news circulating online regarding the Cellmate chastity device being "hacked". 

In Oct 2020, the QIUI app that controls the CELLMATE chastity cage was being compromised, however, not by a group of hackers but a group of professional pen testers (penetration tests). The penetration test revealed a security flaw in the QIUI app which enabled the pen testers to delete and alter user's data associated with QIUI app. This incident resulted in a short period of time where users are not able to unlock their cellmate chastity cages with the app. 

However, within an hour of the incident, the QIUI team had immediately taken action against this incident, by overriding all the locking controls within the app and allowing all users to gain back control over their own chastity devices. There is a news that a ransom was demanded from a certain user circulating in the internet is absolutely untrue. 

Ever since that one single incident, the QIUI team has been constantly improving the QIUI app through updates and also made major revamp to the app. Proper security encryption had been enforced to protect users and prevent any similar incident from happening in the future. 

There had not been a recurrence of such incident ever since October 2020. The CELLMATE chastity cage and QIUI app is SAFE for all users, please do not be worried or concerned regarding the old news. We sincerely hope that everyone will continue to have fun and improve your sexual life with our range of products. 

Thank you.